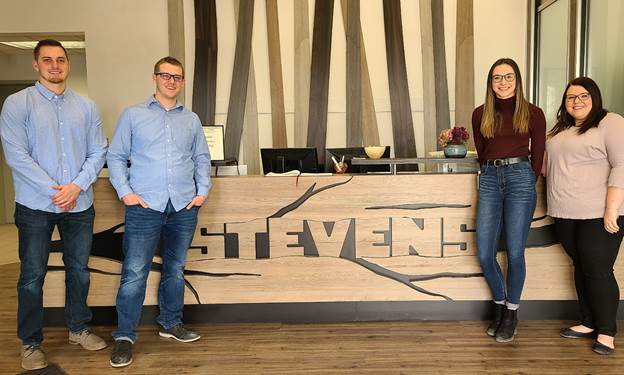 (Left to Right: Kyle Gibson, Preston Walker, Leah Goldstein, Emily Hille)
Teutopolis, IL – Stevens Industries, Inc. is pleased to announce the hiring of four new Sales & Marketing team members. Emily Hille has been hired as Marketing Manager. Leah Goldstein has been hired as Assistant Program Manager. Preston Walker and Kyle Gibson have both been hired as Regional Sales Representatives.
"Stevens is growing at a rapid rate, allowing for multiple new positions and team members. We are thrilled for the success of the company to bring us opportunities to have these new employees join the company," said Vice President of Sales and Marketing, Mike Gibson.
Hille will be developing, implementing and executing strategic marketing plans for the various Stevens Industries' sales divisions, as well as its complementary product lines. 
Goldstein will work in Stevens' fast-growing Subcontract Manufacturing division as the liaison between the customer, Stevens' production team and our installers.  She will also assist in other various developmental projects.
In sales, Walker and Gibson will focus on the StevensWood panel division's market opportunities and improve the division's sales efficiency.
Stevens has manufactured architectural millwork, casework cabinetry, panels, components and furniture since 1956 and is fully owned by its 500 plus employees. The company's work can be seen in multi-family housing, professional offices, retail, hospitality, education, dental offices and healthcare facilities throughout North America.