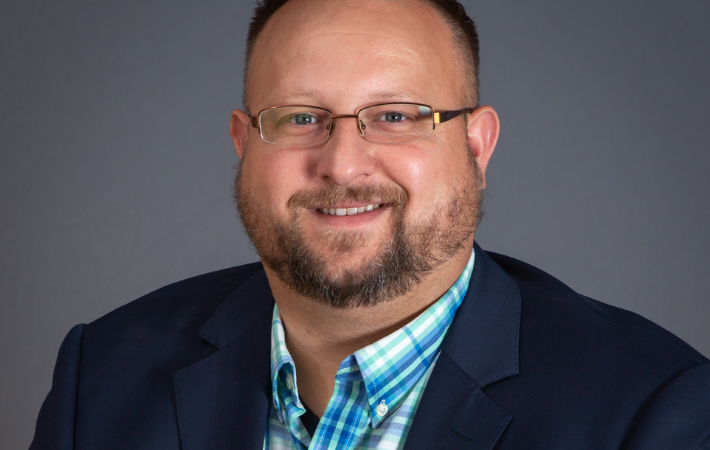 We are pleased to announce the promotion of Travis Oaks to Casework Manager.  Travis took on the new role in the spring, in time for the busy summer construction season.  In his new role he is focused on increasing technology usage in the Estimating and Drafting departments, delving into the future of 3-D models and rendered drawings for improved visuals and prints for customers.
Travis joined the United States Marine Corps after high school and served four years. He then received a Bachelor of Science in Technology Management from Southeast Missouri State University. His extensive knowledge in drafting programs, namely AutoCAD, brought him to Stevens in 2014. He has taken  increased leadership roles within the company, assisting in the design and implementation of a company-wide project to organize and centralize drawings. He created a drafting scheduling program and training manuals.
He shared, "I'm entirely committed to making a positive impact at Stevens and am confident it's a place where I can grow with the business. Our team gets stronger all the time, through investment in leadership trainings and experiences."
J.R. Elder, Vice President of Casework Services commented, "Travis has made great strides in our Casework Services Department since he joined the team. He has progressed from a Draftsman, to Drafting Team Lead and now to Estimating and Drafting Manager. Travis was instrumental in standardizing our drafting systems and metrics. He possesses the unique talent to streamline systems and manage change. We look forward to the improvements in our systems that Travis will provide."
Growing up in Eastern Missouri, Travis didn't know life would bring him to Central Illinois but is now a proudly involved member of the community. He is generous with his time, volunteering as a mentor for the Unit 40 Mentoring Program. He, his wife Jayne and their three German Shepherds reside in Dieterich, Illinois.